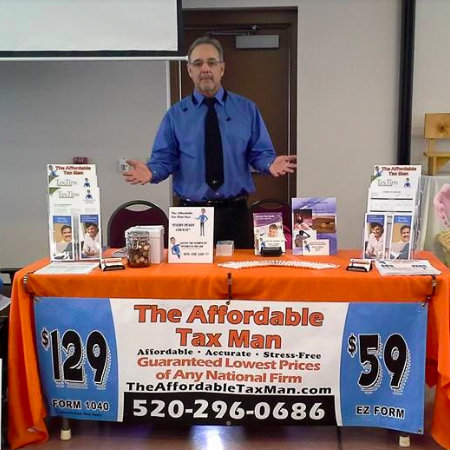 I started in this business more than 30 years ago preparing tax returns for my family and friends. That hasn't changed. Our Clients are our friends.
We provide our community with affordable and accurate personal income tax preparation in an environment that is welcoming, relaxed, and maybe even a little enjoyable.
With that in mind, we want to bring you three things when you complete a tax return with us
Tax Preparation Should Be Straightforward and Accurate
Our tax preparation process is simple, with up front pricing and straightforward advice. We believe in the right of the taxpayer to only pay the amount of tax legally due. Our Quality Control Program emphasizes accuracy and the opportunity for our clients to maximize their refund by paying the least amount of tax required by law. Prior to being submitted to the IRS, all completed tax returns are reviewed by a Registered Tax Preparer with over 30 years of experience in tax preparation and even more years of experience in being a taxpayer.
Tax Preparers Should Be Friendly and Helpful
Our employees are experienced tax preparers that know tax law and love working with people. Customer Service is at the heart of our mission and philosophy and we will deliver that service with warmth, empathy, and pride. We understand the value of tax preparation service because we are taxpayers ourselves. We pay special attention to the needs of our clients, because they are our friends and neighbors.
Tax Preparation Offices Should be Welcoming and Accessible
The Affordable Tax Man is locally owned and operated; it was created to serve the community where we live, work and play. Having your tax return prepared should not be a stressful, unpleasant, or complicated experience. When you go to meet with your tax preparer, you should not have to hire a babysitter, but you should be able to check the score of the U of A game.